Learn Faster and More Effectively with Full Immersion
We teach all classes -even at the beginner level- in full immersion. By speaking Japanese 100% of the time, your mind is forced to pay attention and focus on the sounds, helping you learn at a faster pace. Although it may sound scary now, you'll be surprised how quickly you can pick it up in class.
Take a Trial Lesson to Experience Our Method First‐Hand
Even though we believe that the full immersion teaching method produces the best results, we also understand that some people would rather be taught in their native language. If you're wondering whether or not full immersion is right for you, we invite you to take a free 20‐minute trial lesson (introductory lesson) -with absolutely no obligations attached. We're passionate about teaching Japanese and we want you to have a fun and rewarding time at our school. Before you make a commitment, we want you to be sure that you like the full immersion experience. Once you try it, we're confident that you'll see the benefits immediately!
Take a Level‐Check Session to Find Out What Class is Best For You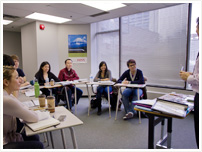 If you have studied Japanese before, it is crucial that you start in the right class level here at Aitas. We offer you a free level‐check session so that we can determine where you best fit. By placing you in the most perfectly suited level, you can pick up where you left off and enjoy an optimal learning experience with others who have comparable studying experience in the Japanese language.
Sign Up Now
Please submit your signup form at least 2 days prior to your desired start date.