Kyoko Saita Profile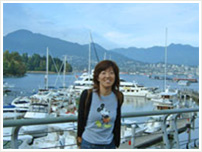 Name: Kyoko Saita
Birth Place: Tokyo, Japan
Kyoko Saita is the Principal of Aitas Japanese Language School. She also acts as a Japanese language instructor at the school teaching adult learners at every level. She capitalizes on a learning environment that is fun and friendly, while using her own Aitas Immersion Teaching Method to effectively teach the Japanese language to her students.
Summary Of What I Do
Teach Japanese to Canadians
Develop teaching materials
Organize our " Aitas Conversation Club"
Organize our Japanese Volunteer Program
Lecture, train and organize workshops for future Japanese language instructors
Work as a counselor at Global Village English Centres
Publish Japanese Mail Magazine
Write books about learning Japanese
Kyoko's History

Travelled to Indiana as a high‐school exchange student
Graduated from university in Japan and began working at an IT firm

1994

Became a professional Japanese language instructor
Taught 'Japanese Language and Culture' at a mixed elementary, junior high, and high school in Australia

1998

Taught non‐Japanese people the language of Japanese at a Japanese Educational Institute
Trained Japanese people who wanted to become Japanese language instructors

2001

Published "Aozorano Tenshitachi": stories of Japanese language instruction in Australia
Became the principal and teacher of a Japanese language school in London, England
Trained Japanese people who wanted to become Japanese language instructors
Instructed interns in Japanese language education
Presented results of the study on "Learning Outcomes of the Direct Method" at an academic conference about teaching Japanese as a foreign language in Europe
Taught Japanese at a private school in London, England (the school had elementary, junior high and high school students)

2003 ‐ Current

Moved to Toronto and opened Aitas Japanese Language School
Created the Aitas Japanese Language School motto: "Learning is fun!"
Developed the

"Aitas Immersion Teaching Method"

, based on past hands‐on experiences
Masa Saita Profile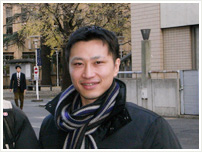 Name: Masa Saita
Birth Place: Tokyo, Japan
Masa Saita is the Director and a primary teacher of Aitas Japanese Language School. Masa has been teaching Japanese for 11 years and takes great pleasure in helping students achieve their goals. He focuses on employing a teaching strategy that is simple, open, fun and very effective.
1994

Received a Bachelor of Arts in Economics at Chuo University in Tokyo, Japan
Studied the Chinese language at Chuo University
Went to Toronto to study English after graduating

1995‐2000

Worked at a travel agency in Tokyo, selling overseas trips to clients
Planned and promoted trips to Asia, Russia and Northern Europe, and conducted various travel tours
Visited 60 countries on business
Had the opportunity to meet many people who were passionate about studying Japanese and who gave him the motivation to begin teaching

2000‐2001

Studied at a training school in Tokyo to become a Japanese language instructor

2001‐2003

Went to London and Oxford, England to teach Japanese
Trained and supported many soon‐to‐be Japanese language instructors

2003 ‐ Current

Moved to Toronto and opened Aitas Japanese Language School
Taught classes to adult learners at all levels